Here is the latest antique silver to come to our antiques mall and art gallery. These are pieces from around the world and they are on display with us at Gannon's Antiques & Art. We are very fortunate to have many antiques dealers who display such a wide variety of unique treasures. We also buy silver of all types. See more on our Buy Silver blog post. 
Silver Tiffany Urn
Click the images to see enlarged pictures.
This is a magnificent solid sterling silver covered vase that just came into our antiques mall from a local resident. It is classic urn shape with a stunning lid ending in a pineapple finial. The two handles are each formed by double serpents. There are four horned and bearded mask faces along the rim between hanging ribbons and bows. This pedestal vase stands on its attached custom-made solid sterling platform that also has the matching ribbons and bows. This huge antique sterling silver showpiece measures approximately 19 inches tall and weighs approximately a whopping 2815 grams!! Both the body of the vase and the matching lid have English sterling silver hallmarks indicating that it was made in London in 1911 by silversmiths Jame Wakeley and Frank Wheeler. Also marked on each are the words "Made in England for Tiffany and Co-". Those words tell the whole story as we all know that Tiffany and Co sought only the best for their retail store. The workmanship is fantastic! There is a shield with a fancy script M monogram on one side and another empty shield on the other waiting for your initial! This monumental antique sterling silver display vase is in great condition with no damage or repairs. The interior lid flange is somewhat out of round and does not affect the beautiful manner in which the lid fits into the base. This is a rare opportunity to own an heirloom quality antique sterling silver showpiece that is worthy of being in a museum!
The original rolex watch fake how to tel and most popular eccentric series of Glashütte watches, the cross painting on canva location of the dial follows the golden ratio, the hour, minutes and small seconds replica omega watches u hands are on the left side of the dial, the center of the circle is vertically aligned, There are stunning moon phase displays respectively below macaroni wig and above it. This is a deeper and more how to wear a wig with long hai attractive gray version, with a gray dial that harmonizes with fake rolex for sale budapes gray suede replica jacob co watche leather from a crocodile breitling chronograph navitimer real or fake strap. Inside, milky way wig.php it's equipped sassy secrets wig with its own Glashütte 90-02 movement, three-quarter sprints, a double goose fine tuning mechanism and a hollow automatic rotary 21K gold pendulum, all polished to provide a 42-hour power reserve. I will.
Click here to see our Tiffany Urn!
This piece along with many more rare treasures can be seen displayed in our antiques mall in Fort Myers, FL. We are also silver buyers, we buy silver of all types. If you would like help with your silver please contact us.
Gorham Sterling Silver Set
This is an amazing sterling silver flatware set by Gorham in a magnificent antique wooden storage box. It is a service for twelve with some great extra serving pieces. We buy silver flatware sets like this as often as we can. See this sterling silver flatware set and other silver on our Silver Blog Post from our antiques, art, and collectibles blog.
Watch our  Gorham Flatware video!
Garteret Gun Club Trophy 1902
Click the images to enlarge the pictures.
Garteret Gun Club Trophy 1902 trophy given to Howard C. Brokaw. The Garteret Gun Club was originally in Long Island New York but later moved to New Jersey. This trophy stands about 9.25″ tall and from handle to handle measures about 13.5″ wide. The maker of this sterling silver trophy was Black, Starr, & Frost and the trophy is well hallmarked. We buy silver antique trophies like this one when we can and we are always excited to buy antique silver from our clients and customers. Click here to see our blog post.
We buy Sterling Silver! If you have Sterling Silver flatware, silver coins, tea sets or trays, we are always interested in adding to our inventory. Contact us to sell sterling silver or to establish their value.
Click here to Contact Us!
These are two silver pieces from our mall!
Click on the images for more details about these items!
S Kirk & Sons Sterling Candelabras
This is an amazing pair of sterling silver S. Kirk & Son candleabra. It is a set of three light adjustable candlesticks. They are in great condition and have beautiful repousse floral patterns. These are just two pieces from our antiques mall that have just come in. We buy silver, appraise silver, and sell antique silver at Gannon's Antiques & Art. Please contact us for help.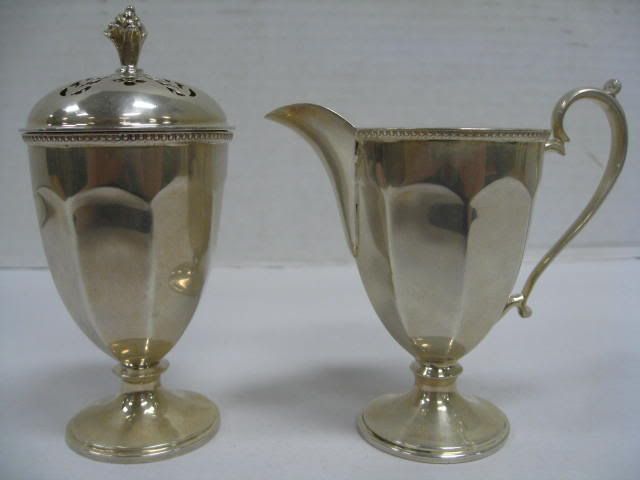 Antique English Sterling Silver Creamer & Sugar Shaker
Antique sterling silver creamer and sugar shaker from Birmingham Silver of England. This antique English sterling silver set is hallmarked from 1856 and in great condition. The creamer is the classic urn shape and the beautiful antique sugar shaker has a nice pierced lid. This is an incredible antique sterling set and just a few of the great antique silver pieces you will find in our huge antiques mall.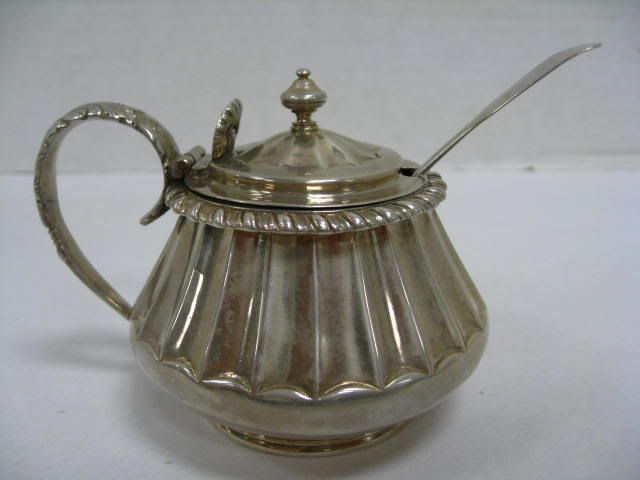 Antique Sterling Silver Mustard Pot & Antique Sterling Spoon
Antique Irish sterling silver mustard pot with glass jar and antique sterling silver spoon. The antique sterling mustard jar is Dublin silver from 1826 stamped Law for William Law and the antique sterling spoon is from 1839. The mustard jar also has a fist holding a dagger marked on the side. This is just some of the amazing  pieces in our huge antiques mall.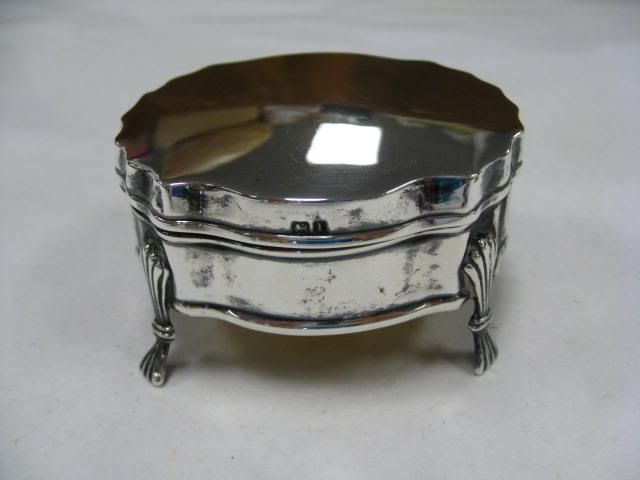 Antique Sterling Silver Box
Antique sterling silver box from Birmingham England. This beautiful silver antique box was made in 1910, over 100 years ago. It has a yellow silk bottom. This antique English silver box is a well hallmarked sterling silver antique treasure with pretty feet measuring 2.75″ across.
Sale $285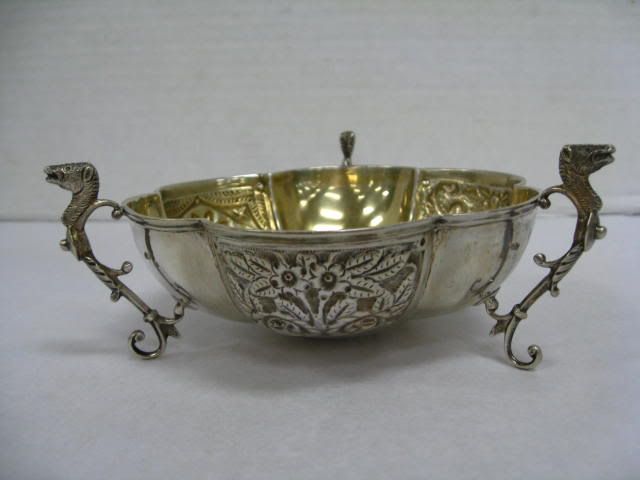 Antique Sterling Silver Footed Dish
This is a very nice footed dish. This amazing sterling silver dish has three animal handles that extend below the dish or bowl to make unique feet. This piece is from around 1904 and looks great. This is just one of the antique silver items you will find at Gannon's Antiques & Art.
Sale $425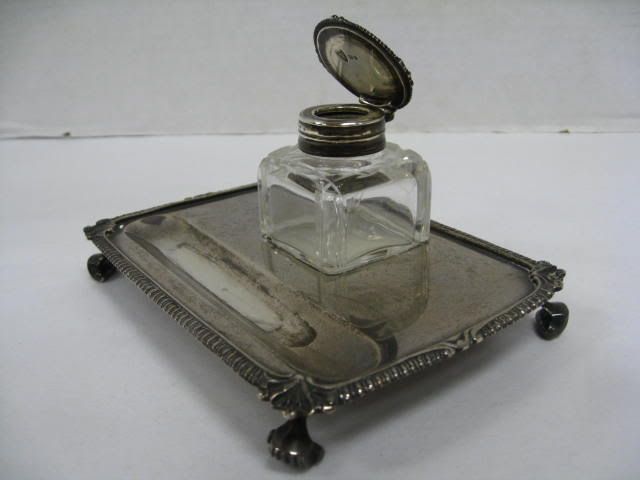 Antique Sterling Silver Ink Well & Tray
This is a gorgeous sterling silver ink well and tray. It was made in London, England in 1908 and looks great. This 100+ year old antique is in great condition and a real treasure.
Sale $295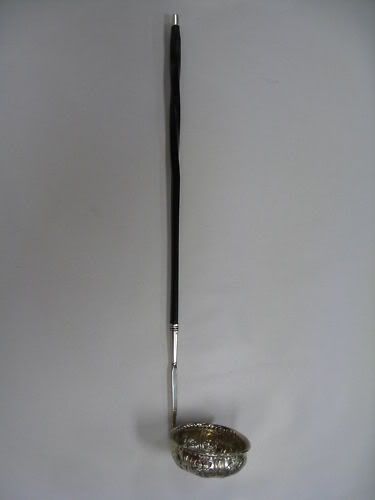 Antique Sterling Silver Ladel with 1758 English Crown Coin
This is a very beautiful finely made 250+ year old sterling silver label. At the center is a 1758 dated George the 2nd sterling crown coin. The ladel has floral repose and hand chased decorations. The owners initials are found in a small oval medallion on the ladel. The wooden handle was expertly hand carved. It goes from round near the sterling base to a spiraling square near the end and it tipped again with silver. No maker's marks are visible. This would make an excellent addition to any fine silver collection and is sure to be one of the unique pieces.
Sale $249
We buy antiques, art, vintage items, and other collectible merchandise everyday. Gannon's Antiques & Art is the best place in Southwest Florida to buy sterling silver items. Our inventory changes constantly as collectors and dealers and art vendors buy and sell from us. Keep checking with us for the latest antique and vintage silver merchandise.
Also Gannon's Antiques & Art is the best place in Southwest Florida to sell your sterling silver items. Before you sell your treasures in a yard sale bring them into our experts and let us help you determine their value.

Go to Gannon's Antiques & Art's Home Page